Some of us spend the weeks between Halloween and Christmas Day endlessly tweaking the festive-ness in our homes. Some of us wake up on Monday Christmas week, look around at the lack of holly/tinsel/red-and-green flair and… whoops.
The former: Y'all don't need our help. The latter crew, on the other hand… Here are a few of our picks for super easy, super fast ways to dress up your home before friends/family arrive for the annual clinking of nog glasses.
Last-minute Christmas decor ideas
The key to quick and easy decorating: making use of stuff you already have. Odds are you have a mason jar (or something similar) laying around, and some ribbon for wrapping presents. A little water, a candle, your jar and some ribbon tied around just so: very simple, very cute way to dress up your tables. Short on ribbon? Go outside and clip some greenery off your landscaping, make with a little bit of glue to affix to your jars, place candles and boom: holiday joy.
It's always possible that things red and white kept you from exploring things red and green around the house. Have a few wine bottles left hanging around the recycle bin? Any old paint in the storage room? The above ideas are cute, but definitely ask you to have a few things on hand that aren't necessarily universal — like jingle bells and felt. You could make a quick trip to the craft store, or tap into the gift-wrapping materials again, and just do some simple tweaks (the snowman bottle could easily happen with some black paper for the dots, red ribbon for the scarf).
Missed your chance to get the tree up? This'll do in a pinch — especially if you tend toward a vintage decor style. Just break out the lights and ornaments, and open up your trusty old ladder. It just takes a little spin to pull it off — this isn't "lazy," it's "creative and unique."
That stack of Christmas cards you're not sure what to do with? Break out the scissors, plus a vase and a few twigs from outside. Cut out some simple ornament shapes from your most colorful cards, punch a little hole at the top with a pin, and get them ready to hang on the twigs you've carefully placed in your case. Pro tip: If you don't have embroidery thread around, there's no shame in dental floss.
Have kids? This one's so easy you don't really even have to do it yourself. Dig out your stash of old Christmas bows and a paper plate, cut the center out of the plate, and have the kids stick bows around the circle to create a wreath. Hang it up on a chandelier like this, maybe on the stair rails… even stick some on walls with tape.
For the effort involved, this brings a pretty big punch — particularly if you have some thicker ribbon to use. Wrap the whole door in paper, or just use ribbon and bows for a simpler effect. It might take a decent bit of ribbon yardage, but it definitely doesn't take a lot of time, and it creates a pretty welcoming bit of Christmas cheer from the moment your friends/family arrive.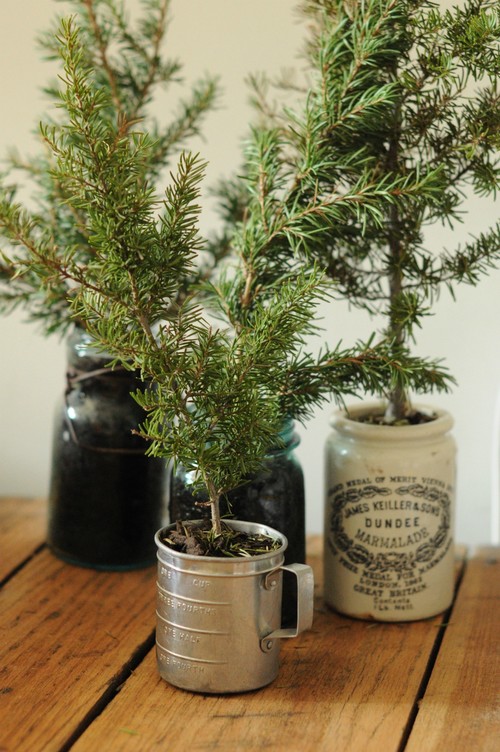 Add not only some festive decor, but festive smells, too, by grabbing some pine cuttings and putting them in pots. (If you'd rather get more creative than basic pots, the choices here from Houzz sure are cute.) If you have some floral foam laying around (maybe someone sent you a Christmas arrangement that's now dead?), that'll help keep the cuttings stable/alive longer. But just make sure to water, and you'll get some life out of these. (If you're doing this last minute, it doesn't really matter anyway, right?)
And truly the easiest of easy: Dump packages of ornaments into your potted plants. Christmas cheer in literally 12 seconds.
Hope some of these are helpful for our procrastinating friends. If you have any good suggestions to share, we'd love to hear 'em!
If what you really want this Christmas is a new home to decorate last-minute next Christmas, let us know — we'd be happy to help!